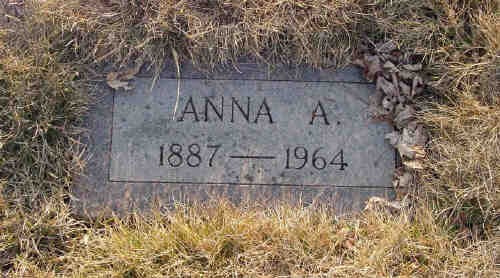 MAKI, Anna A.
(1887-1964)
MAKI, Anna A. 1
Born: 4 Jan 1887, Finland
Marriage: KOJOLA, Henrik about 1907 in St. Louis County, Minnesota
Died: 23 Dec 1964, Hibbing, St. Louis County, Minnesota at age 77 2
Buried: 26 Dec 1964, Hibbing Park Cemetery (Maple Hill Cemetery), Hibbing, St. Louis County, Minnesota 3

Anna married Henrik KOJOLA, son of Juha Jaakonpoika NAURISMÄKI and Pannula Maria Isakintytar WALBORG, about 1907 in St. Louis County, Minnesota. (Henrik KOJOLA was born on 25 Dec 1884 in Ylikojola Farm, Lapua Parish, Finland 4, christened on 28 Dec 1884 in Lapua Parish, Finland, died on 23 Nov 1970 in Northfield, Rice County, Minnesota 5 and was buried on 27 Nov 1970 in Hibbing Park Cemetery (Maple Hill Cemetery), Hibbing, St. Louis County, Minnesota 6.)

Sources
---
1 1930 US Census, District 129, Hibbing, St. Louis County, Minnesota. Surety: 4. Lists Henry Kojola (age 45, b. Finland), wife Anna A. (age 43, b. Finland) and children Hugo V. (age 21, b. MN), Laila H. (age 19, b. MN), K. Rudolph (age 15, b. MN) and Albert K. (age 13, b. MN), living in Hibbing, Minnesota. Henry is listed as a "miner" in the "iron mines," and indicates that both his parents were born in Finland. Anna also indicates that both her parents were born in Finland, and that she came to the U.S. in 1900 and is naturalized. Henry indicates that he came to the U.S. in 1903 and is naturalized. The couple indicates that they married when Henry was 23 and Anna 21.
2 Minnesota Death Index (Ancestry.com). Surety: 4. Name: Mrs. Anna Kojola
Birth Date: 4 Jan 1887
Death Date: 23 Dec 1964
Death County: Saint Louis
Mother's Maiden Name: Kohtala
State File Number: 018120
Certificate Number: 018120
Certificate Year: 1964
Record Number: 1589658



3 City of Hibbing website, Hibbing Park Cemetery Records (http://www.hibbing.mn.us/index.asp?Type=B_BASIC&SEC=%7B6B0C0D02-6ADE-4828-9FD6-2EDF99F8189B%7D). Repository: Hibbing Park Cemetery, Hwy 169 & Hwy 73, Hibbing, Minnesota 55746, U.S.A. Surety: 4. Anna Kojola
Sec 172, Lots 1-3W, Graves 1/2
4 Parish Records - Lapua, Finland (Genealogical Society of Finland: http://www.genealogia.fi/hiski/tkzlb7). Surety: 4. Heikki, b. 25 Dec 1884, chr. 28 Dec 1884; son of torp.p Juha Jaakonp. Naurismaki and v. Maria Iisakint.
5 Minnesota Death Index (Ancestry.com). Surety: 4. Name: Henry Kojola
Birth Date: 25 Dec 1884
Death Date: 23 Nov 1970
Death County: Rice
Mother's Maiden Name: (Maiden Unknown)
State File Number: 029399
Certificate Number: 029399
Certificate Year: 1970
Record Number: 1795156



6 City of Hibbing website, Hibbing Park Cemetery Records (http://www.hibbing.mn.us/index.asp?Type=B_BASIC&SEC=%7B6B0C0D02-6ADE-4828-9FD6-2EDF99F8189B%7D). Repository: Hibbing Park Cemetery, Hwy 169 & Hwy 73, Hibbing, Minnesota 55746, U.S.A. Surety: 4. Henry Kojola
Sec 172, Lots 1-4W, Graves 1/2