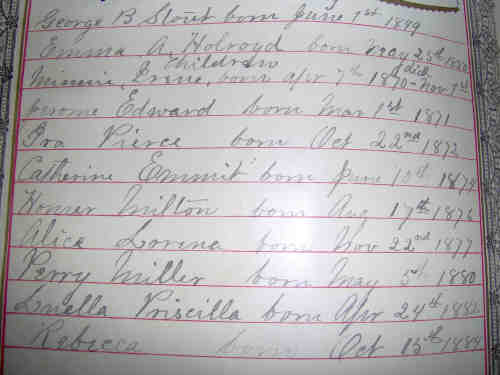 STOUT, Catherine Emmit
(1874-1937)
STOUT, Catherine Emmit 1 2
Born: 10 Jun 1874, Damascus, Stephenson County, Illinois 3
Marriage: CALE, Almer J. about 1892 in Prob. Illinois
Died: 30 Jan 1937, Archie, Madison County, Montana at age 62

Another name for Catherine was Dolly.


General Notes:
Catherine is named after her grandmother, Emmit Shoemaker.

Catherine married Almer J. CALE about 1892 in Prob. Illinois. (Almer J. CALE was born about 1871 in Illinois.)

Sources
---
1 1880 US Census (District 12, Elk Horn, Carroll County, Illinois). Repository: Ancestry. Surety: 4. Lists George Stout (age 35, b. Prussia), wife Emma [Holroyd] (age 30, b. Prussia [erroneous]) and children Edward (age 10, b. IL), Ira (age 8, b. IL), Emma C. (age 6, b. IL), Homer (age 4, b. IL), Alice (age 2, b. IL) and Perry (age 6 mos, b. IL), living in Elk Horn, Illinois. George is listed as a "laborer."
2 1930 US Census, District 2, Austin, Cass County, Missouri. Surety: 4. Lists Almer Cale (age 59, b. IL), wife Catherine E. [Stout] (age 56, b. KS), daughter Nellie A. (age 32, b. NE) and granddaughter Dorothy M. (age 11, b. Missouri), living in Austin, Missouri. Also in the household is Catherine's father, George B. Stout (age 80, b. IL). Almer is listed as a "farmer," and indicates that his father was born in Kentucky and his mother in Illinois. Catherine indicates that her father was born in Illinois and her mother in Iowa.
3 Javella Holroyd, Holroyd-Shrove Family Bible. Surety: 4. Catherine Emmit Stout, b. 10 Jun 1874.