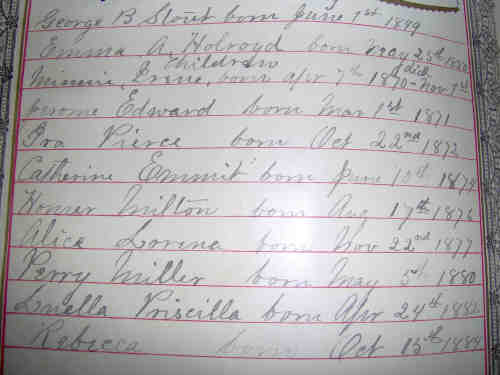 STOUT, Homer Milton
(1876-1937)
STOUT, Homer Milton 1
Born: 17 Aug 1876, Damascus, Stephenson County, Illinois 2
Died: 1937 at age 61


General Notes:
Named after his uncle, Homer Milton Holroyd.

Sources
---
1 1880 US Census (District 12, Elk Horn, Carroll County, Illinois). Repository: Ancestry. Surety: 4. Lists George Stout (age 35, b. Prussia), wife Emma [Holroyd] (age 30, b. Prussia [erroneous]) and children Edward (age 10, b. IL), Ira (age 8, b. IL), Emma C. (age 6, b. IL), Homer (age 4, b. IL), Alice (age 2, b. IL) and Perry (age 6 mos, b. IL), living in Elk Horn, Illinois. George is listed as a "laborer."
2 Javella Holroyd, Holroyd-Shrove Family Bible. Surety: 4. Homer Milton Stout, b. 17 Aug 1876.