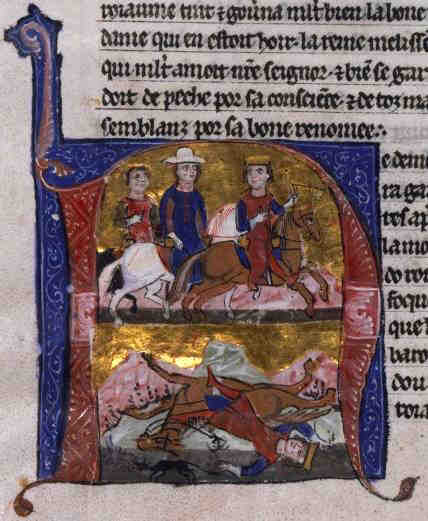 COUNT OF ANJOU, Fulk V
(Abt 1091-1143)
COUNT OF ANJOU, Fulk V 1
Born: Abt 1091, France
Marriage: MAINE, Ermengarde Du
Died: 13 Nov 1143, Acre, Western Galilee, Israel about age 52
Buried: Nov 1143, Church of the Holy Sepulchre, Acre, Western Galilee, Israel

Other names for Fulk were the Young and of Jerusalem.

Fulk married Ermengarde Du MAINE. (Ermengarde Du MAINE was born about 1099 in Maine, France and died in 1126 in France.)

Sources
---
1 Fulk of Jerusalem (Wikipedia: compiled from various sources including a biography by William of Tyre). Surety: 4. He became count of Anjou upon his father's death in 1109, at the age of approximately 20. He was originally an opponent of King Henry I of England and a supporter of King Louis VI of France, but in 1127 he allied with Henry when Henry arranged for his daughter Matilda to marry Fulk's son Geoffrey of Anjou. Fulk went on crusade in 1120, and become a close friend of the Knights Templar.

Death:

In 1143, while the king and queen were on holiday in Acre, Fulk was killed in a hunting accident. His horse stumbled, fell, and Fulk's skull was crushed by the saddle, "so that his brains gushed forth from both his ears and his nostrils", as William of Tyre describes. He was carried back to Acre, where he died and was buried in the Church of the Holy Sepulchre. Though their marriage started in conflict, Melisende [Queen of Jerusalem, second wife] mourned for him privately as well as publicly. Fulk was survived by his son Geoffrey of Anjou by his first wife, and Baldwin III and Amalric I by Melisende.