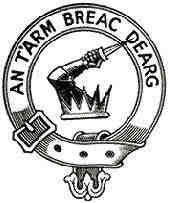 MACCRARY, Christopher
(Abt 1618-After 1650)
MACCRARY, Christopher 1
Born: Abt 1618, Scotland
Marriage: Margaret about 1640-1644 in Scotland Or England
Died: After 1650, Prob. England

Another name for Christopher was MACWHARRIE.


General Notes:
Early Quaker records have documented that the parents of Rodger Crary were Christopher Crary and his wife, Margaret, then living in Devon County, England. The "de-Mac-ed" Crary surname, and the presence of Christopher Crary in England at this time (a likely place for a supporter of Cromwell) lends some sense of support that Christopher, Margaret and Rodger are of the same family as Peter and John Crary, who immigrated to the colonies. It is widely believed, but not proven, that Peter, Rodger and John were brothers. A fourth "brother," Robert (also sometimes called Roger), is thought by some to be the patriarch of the McCrary's found prominently in early southeastern America (the retention of the "Mac" in Robert's surname casts some doubt on this). Researchers should be cautioned that the relationship between these individuals (with the exception of the documented parental relationship between Rodger, Christopher and Margaret) is purely speculative at this time.

Christopher married Margaret about 1640-1644 in Scotland Or England. (Margaret was born about 1620 in Scotland Or England and died after 1651 in Prob. England.)

Sources
---
1 Quaker Encyclopedia. Surety: 3. Rodger S, Christopher & Margaret, Devon Co. England, b. 3/3/1651 Radcliffe St. Bristol, Somerset Co. England. Removed to Dublin Ireland about 1678.