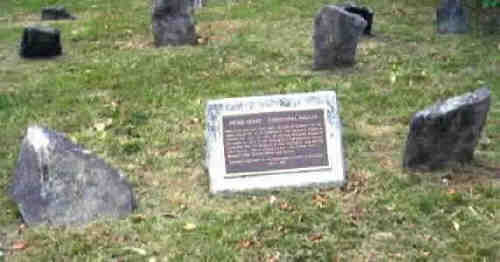 CRARY, Peter
(Abt 1645-1708)
CRARY, Peter 2 3 4 5 6 7
Born: Abt 1645, Glasgow or Northumberland, Scotland
Marriage: GALLUP, Christobel on 31 Dec 1677 in Groton, New London, Connecticut 1
Died: 24 Oct 1708, Groton, New London, Connecticut about age 63
Buried: Whitehall Burying Ground, Mystic River, Connecticut


General Notes:
Peter left Northumberland, England for the American colonies in 1663, after the restoration of Charles II to the English throne. Oral tradition tells us that Peter, or perhaps his father, was a supporter of Cromwell and that this support resulted in the "de-Mac-ing" of his family surname by the clan MacQuarrie. Others have speculated that Peter dropped the "Mac" from his name upon arrival in America, perhaps to discern his descendants from those of his brother(s). The true reasons may never be known. Peter's arrival in Plymouth in 1663 creates some speculation that he may have had Puritan beliefs. By the age of 17 or 18, he is documented as settled in Stonington, Connecticut and as a member of the Stonington Congregational Church. We do not know whether he was a man of means, however he did manage to marry a daughter of the prominent Gallup family and is listed as one of the founders of New London CT. Peter settled near the Mystic River in 1675. His son, John, became a judge of the Court of Surrogate, and is credited as the founder of Plainfield CT. The Crary family is accepted as part of the Clan MacQuarrie, one of the more ancient of the Pictish Clans and believed to be related to the Clan MacAlpin, headed by King Kenneth MacAlpin. Peter Crary is the patriarch of the Crary lineage in America.

Peter married Christobel GALLUP, daughter of Captain John GALLUP and Elizabeth Hannah LAKE, on 31 Dec 1677 in Groton, New London, Connecticut.1 (Christobel GALLUP was born in 1662 in New London, Connecticut, died on 17 Sep 1754 in Plainfield, Connecticut and was buried in Whitehall Burying Ground, Mystic River, Connecticut.)

Sources
---
1 Barbour, Lucious Barnes, Connecticut Town Marriage Records, Barbour Collection (New London Vital Records Part I - 1646-1854), p. 114. Surety: 4. Peter [Crary], m. Christobel GALLUP, Dec. [ , 1677].
2 Caulkins, History of New London, Connecticut.(1852) Surety: 4. According to Caulkins, the name of Peter Crary first appears among the members of "her Majesties Colony of Connecticut" on the 23rd day of April, 1663, and in the patent of New London, October 23, 1663.
3 The Compendium of American Genealogy, 1600s-1800s: Volume V, Lineage Records, page 402. Surety: 4. "Christobel, m. 1677 Peter Crary (d. 1708), from Eng., 1663; settled at Groton, Conn."
4 Lanard, Ellen D., History of Windham County, Connecticut: Vol 1-2 (Worcester, MA: 1880), page 609. Surety: 4. Whether "desired" or not, the new patent was not made out, and Plainfield continued to hold possession of all the land east of the Quinebaug, defending herself in actions brought against her by her Canterbury neighbors and ordering a land-rate to pay the executions obtained by them, leaving it to the selectmen to draw on some persons and mitigate the rate of others "as they see cause." The land division ordered two years before was now perfected and distributed-all the land in Plainfield, exclusive of the meadows and General Field being divided into five sections, called "eighths." The first and most southernmost included John Gallup, Sen., John Smith, Ebenezer Harris, John Fellows, Peter Crary and son and Ben Adam Gallup.

5 Savage, James, A Genealogical Dictionary of New England Showing Three Generations of Those Who Came Before May 1692 - Vol I-IV (Boston: 1860-1862), Vol I, Page 472. Surety: 4. Crary, Peter, New London 1676, m. Dec. 1677, Christobel, d. of John Gallup the sec. had Peter, John, William, Robert, Christobel, Margaret, and Ann, all liv. at his d. 1708.

6 The Public Records of the Colony of Connecticut (Hartford: Parsons & Brown), Vol 5, p. 210. Surety: 4. Whereas it has been made appear to this Assembly, that Peter Creery, late of Groton, deceased, in the year 1704, did commence an action of trespass and ejectment against James Welch of Plainfield, for his unjust entry into certain lands in Plainfield, and that the said action was removed from the county court at New London (by appeal) to the court of assistants at Harford, in May, 1705, and that the said court of assistants never gave judgement upon the said action: Wherefore this Assembly do now order and declare, that the said action or suit shall be no bar to any person that hath right to any of the lands mentioned or sued for in the said action, or the original writ therein, but that any such persons may enter into, or sue out his right unto any of said lands, as fully as if the said action had never been commenced or begun.
7 Dewey, Louis Marinus Esq., Peter Crary of Groton, Conn. and Some of His Descendants, Vol. 1, p. 494. Surety: 4. 1. Peter╣ Crary died in 1708 at Groton, Conn., where he was an early settler in 1663. He married, in 1677, Christobel, daughter of John Gallop, of New London, Conn.

Children:

i. Christobel▓ b. Feb., 1678-9; m. Ebenezer Harris.
ii. Peter, bapt. Apr. 30, 1682; d. unmarried, before May 18, 1720.
iii. Margaret, bapt. Aug. 20, 1682; m. Ebenezer Pierce of Groton.
2. iv. John, bapt. Aug. 8, 1686.
v. William, bapt. Nov. 6, 1687.
3. vi. Robert, bapt. May 11, 1690.
vii. Ann (Hannah), bapt. July 17, 1692; m. Nathan Bushnell of Norwich.