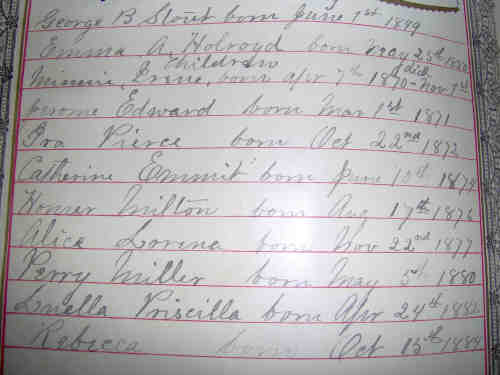 STOUT, Rebecca Penelope
(1884-Bef 1910)
STOUT, Rebecca Penelope 1
Born: 15 Oct 1884, Kansas 2
Marriage: MORRISON, Harry L. about 1905 in prob. Gage County, Nebraska
Died: Bef 1910, prob. Gage County, Nebraska


General Notes:
I don't believe that Rebecca and Harry Morrison were actually married. He is listed as a single man on the 1910 US Census, and his son, Dean, is living with Rebecca's parents. It is also uncertain that Rebecca had died by 1910, but she does not appear on any census records after 1900. It is possible that she died in childbirth or sometime afterward.

Rebecca married Harry L. MORRISON, son of Jerry MORRISON and Ellen UNKNOWN, about 1905 in prob. Gage County, Nebraska. (Harry L. MORRISON was born about 1880 in Iowa.)

Sources
---
1 1900 US Census (District 42, Wd-4 Beatrice, Gage County, Nebraska). Repository: Ancestry. Surety: 4. Lists George Stout (age 50, b. Jun 1849, IL), wife Emma A. [Holroyd] (age 50, b. May 1850, IL) and daughter Rebecca (age 15, b. Oct 1884, KS), living in Beatrice, Nebraska. Also in the household is a "granddaughter" (age 1, b. Mar 1899, NE), whose name is illegible. George indicates that both his parents were born in Pennsylvania. Emma indicates that her father was born in Washington D.C. and her mother in Indiana. The grand child's father is listed as born in Nebraska and her mother in Illinois. George is listed as a "machinist." Also living in Beatrice at this time is Emma's brother, Jerome B. Holroyd, and his family.
2 Javella Holroyd, Holroyd-Shrove Family Bible. Surety: 4. Rebecca Stout, b. 15 Oct 1884.