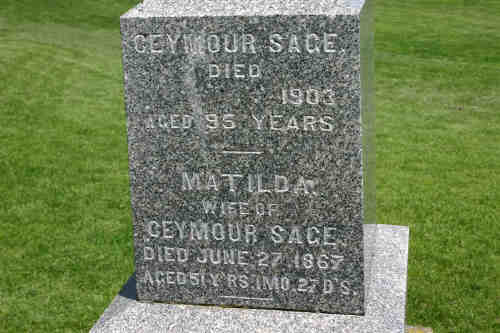 CLARKE, Matilda
(1816-1867)
CLARKE, Matilda 1 2 3
Born: 30 Apr 1816, Canada
Marriage: SAGE, Ceymour Lyman Esquire in 1833 in Oxford County, Ontario, Canada
Died: 27 Jun 1867, East Oxford, Oxford County, Ontario, Canada at age 51
Buried: Jun 1867, East Oxford Pioneers Cemetery, East Oxford, Oxford County, Ontario

Matilda married Ceymour Lyman SAGE Esquire, son of Willard SAGE and Elizabeth BURTCH, in 1833 in Oxford County, Ontario, Canada. (Ceymour Lyman SAGE Esquire was born in 1808 in Dereham, Oxford County, Ontario, Canada, died on 29 Aug 1903 in Woodstock, Oxford County, Ontario, Canada 2 4 and was buried in Aug 1903 in East Oxford Pioneers Cemetery, East Oxford, Oxford County, Ontario.)

Marriage Notes:
Marriage date based upon Ceymour's death notice.

Sources
---
1 Ontario Canada Deaths, 1869-1932 (Woodstock, Oxford County, Ontario; 1928). Surety: 4. Sage, Edwin Morris
Place of death: Woodstock Hospital
Age: 87 years, 6 months
Place of birth: Canada
Name of father: Seymore Sage
Father's birthplace: Canada
Name of mother: Mary --
Mother's birthplace: Canada
Informant: Harold Sage, son, Woodstock
Date of burial: 19 Sep 1928
Place of burial: Oxford Centre
Date of death: 17 Sep 1928
Cause of death: pneumonia and senility, Aug 22/28 - Sep 17/28

2 Ingersoll Daily Chronicle (Ingersoll, Oxford County, Ontario, Canada). Surety: 4. DEATH NOTICE: OXFORD'S OLDEST NATIVE RESIDENT--Woodstock Express: Seymour Sage, the oldest native born resident of Oxford, passed away at 10 o'clock, on Saturday night, after 95 years of life. For many years Mr. Sage had been looked upon as a remarkable example of vigorous old age. As he reached the 90 mark and passed it his friends remarked with a good deal of satisfaction that he not only retained his mental faculties, which were acute, but also the evenness of temper which always characterized his life. At 95 years of age he was a fairly rugged man, possessed of mental as well as bodily rigor, and until a short time ago gave promise of becoming a centenarian. A man who has lived nearly a hundred years in one district must necessarily have had his influence on its development. It was in the township of West Oxford [township], he was born in 1808. Later he moved over to East Oxford [township] and settled on the old homestead on the Old Stage Road, near Vandecar. In 1833 He married a daughter of the late John Clarke. He continued to live on the homestead all his life, until old age, compelled him to give up active work, when he came to Woodstock and took up residence with his daughter, Miss Ida, Beale Street, with whom he was living when he died. Mr. Sage was a man of many fine qualities and was respected by everyone who knew him. He was always a man of quiet and retiring tendencies and never sought public service. He was a life long Methodist. The children are: Mrs. Johnston and Mrs. T___? in California; Orlando in San Francisco; Edwin, West Oxford [township]; Mrs. H. Peers and Mrs. A. Peers, East Oxford [township]; and Miss Ida, Beale Street, this city.
3 Ontario Canada Deaths, 1869-1932 (East Oxford, Oxford County, Ontario; 1927). Surety: 4. Peers, Augusta
Place of death: East Oxford
Marital Status: widowed
Age: 82 years
Place of birth: East Oxford
Date of birth: 16 April
Name of father: Ceymour Sage
Birthplace of father: West Oxford
Name of mother: Matilda Clarke
Birthplace of mother: Woodstock
Name of informant: Clair Peers, son
Place of burial: Woodstock
Date of burial: 25 Aug 1927
Date of death: 23 Aug 1927
Cause of death: cerebral hemmorhage
4 Ontario Canada Deaths, 1869-1932 (Woodstock, Oxford County, Ontario; 1903). Surety: 4. Sage, Ceymour
Died: 29 Aug 1903, Woodstock, Oxford County, Ontario
Age: 94
Occupation: gentleman
Place of birth: Oxford County
Cause of death: old age
Religion: Methodist