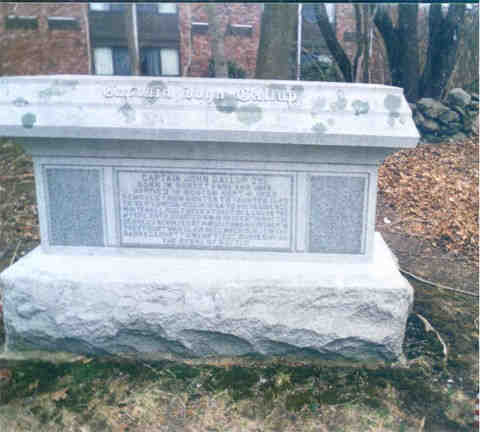 GALLUP, John (Captain )
(1615-1675)
GALLUP, John (Captain ) 2 3 4 5 6
Born: 1615, Bridgeport, Dorset, England
Marriage: LAKE, Elizabeth Hannah in 1643 in Boston, Suffolk County, Massachusetts 1
Died: 19 Dec 1675, Narragansett, Washington County, Rhode Island at age 60
Buried: Dec 1675, Narragansett, Washington County, Rhode Island


General Notes:
John's body was buried near the site of the Great Swamp Fight battleground (King Phillip's War), where he died. A memorial stone was erected for him in the Whitehall Graveyard in Mystic, Connecticut, where his wife, Hannah, is buried.

John married Elizabeth Hannah LAKE, daughter of John LAKE and Margaret Elizabeth READE, in 1643 in Boston, Suffolk County, Massachusetts.1 (Elizabeth Hannah LAKE was born on 3 Jul 1621 in Wickford, Essex, England, died after 1675 in Mystic, New London County, Connecticut and was buried in Whitehall Graveyard, Mystic, New London County, Connecticut.)

Sources
---
1 Ancestry.com, U.S. & International Marriage Records, 1560 - 1900 (Yates Publishing. U.S. and International Marriage Records, 1560-1900 [database on-line]. Provo, UT, USA: The Generations Network, Inc., 2004.
). Surety: 4. Name: Ann Lake
Gender: female
Birth Place: En
Birth Year: 1621
Spouse Name: John Gallup
Spouse Birth Place: En
Spouse Birth Year: 1615
Marriage Year: 1643
Marriage State: MA
Number Pages: 1


2 The Compendium of American Genealogy, 1600s-1800s: Volume V, Lineage Records, page 402. Surety: 4. "John (ca. 1615-1676), killed in the Swamp Fight in King Phillip's War; m Harriet Lake (John, d. Eng, m Margaret Reade, who came in the "Abigail," 1635, with her two daughters)."
3 Cutter, William Richard, Genealogical and Family History of the State of Connecticut: A Record of the Achievements of Her People in the Making of a Commonwealth and the Founding of a Nation, Volume 1 (New York, NY: Lewis Publishing Company, 1911). Surety: 4. (VI) Captain John (5), son of John (4), Gallup , was born in England , and came to this country in 1633 . He was with his father in the engagement off Block Island , and afterwards engaged in the Pequot war. The general court of Connecticut granted him a hundred acres of land for his services in that war. He settled in New London, Connecticut , in 1650-51 . On February 9, 1652-53 , he received three hundred acres of land on the Mystic river , in consideration of his father's military services, and in the next year, one hundred and fifty acres more, about which there had been some disagreement. In 1654 he moved with his family to the east side of the Mystic river , now Stonington , and was one of the early settlers of that town. He was deputy to the general court in 1665-67 . He was also an Indian interpreter. Although he was over sixty years old when King Philip 's war broke out, he joined with Captain John Mason , of Norwich , at the head of the Mohegans . These troops were engaged in the Swamp fight at Narragansett , December 19, 1675 . He was one of the six captains who were killed in this fight. He married, in 1643 , at Boston , Elizabeth Hannah , daughter of John and Margaret Lake , and granddaughter of Edmund Read , Esq., of Wickford, county Essex, England . Her mother was sister of Elizabeth Read , who married John Winthrop , Jr., governor of Connecticut . Children: Hannah , born at Boston , September 14, 1644 ; John , mentioned below; Esther , born at Taunton, Massachusetts , March 24, 1653 ; Benadam , at Stonington , 1655 ; William , 1658 ; Samuel ; Christobel , married, December 31, 1677 , Peter Crary , of Groton ; Elizabeth , married Henry Stevens , of Stonington ; Mary , married John Cole , of Boston ; Margaret , married Joseph Culver , of Groton .

4 Lanard, Ellen D., History of Windham County, Connecticut: Vol 1-2 (Worcester, MA: 1880), p. 609. Surety: 4. Whether "desired" or not, the new patent was not made out, and Plainfield continued to hold possession of all the land east of the Quinebaug, defending herself in actions brought against her by her Canterbury neighbors and ordering a land-rate to pay the executions obtained by them, leaving it to the selectmen to draw on some persons and mitigate the rate of others "as they see cause." The land division ordered two years before was now perfected and distributed-all the land in Plainfield, exclusive of the meadows and General Field being divided into five sections, called "eighths." The first and most southernmost included John Gallup, Sen., John Smith, Ebenezer Harris, John Fellows, Peter Crary and son and Ben Adam Gallup.

5 Gallup, John D., The Genealogical History of the Gallup Family in the United States; also Biographical Sketches of Members of the Family (Press of the Hartford Printing Company: Hartford, CT. 1893), p. 21-22. Surety: 3. John Gallup2, (John1) son of John and Christobel Gallup, was born in England, and came to this country in 1633. He married in 1643, at Boston, Hannah Lake, daughter of John and Margaret Lake. Madam Margaret Lake was the daughter of Edmund Read, Esq., of Wickford, Essex county, England, and sister of Elizabeth Read, who married John Winthrop, jr., Governor of Connecticut. In early life he showed signs of the bravery which afterwards distinguished him as an Indian warrior. It is supposed that he was with his father and assisted him in the capture of John Oldham's vessel, off Block Island. With Massachusetts forces he engaged with his father in the Pequot war and bore himself so bravely that the General Court of Connecticut in 1671 gave him a grant of 100 acres of land. He came to New London in 1650 or '51. The following extracts are from Miss Calkins History of New London:

"Before the end of the municipal year February 25, 1650-1, we find the names of John Gallup and Mrs. Lake and others, all applicants for house lots."

"On the town street, east of Stallion and Bayley, a lot of ample dimensions was laid out to John Gallup, eight acres in the very heart of the town covering the space east of the town street to the beach and extending north from State street to Federal."

In the colonial records at Harford may be found the following:

"February 9, 1652-3, John Gallup in consideration and with respect unto the services his father hath done for the country, hath given him up the river of Mistick, which side he will 300 acres of upland.

February 6, 1653-4, John Gallup, hath given him a further addition to his land at Mistick, 150 acres, which he accepts and acknowledgeth himself satifyed for what lands he formerly laide claim unto upon the general neck as a gift of his father's, which as he saith was given to his father by General Stoughton after the Pequott war."

Having these large grants of land he removed with his family in 1654 to the east side of the Mystic River, now Stonington, where he had taken up the land granted him. He was one of the early settlers of that town. His homestead place was bounded on the west by Mystic River, south by Captain Stanton's homestead place and Captain Denison's land, east by Denison's land and the town lots, and on the north by Robert Park's land. He represented the town at the General Court in 1665 and 1667. He was also an Indian interpreter. When King Philip's War broke out, although he was over sixty, age had not quenched his martial ardor. New London county having raised seventy men under Captain John Mason of Norwich, Captain Gallup joined with him at the head of the Mohegans. These troops forming a junction with those of other colonies, were engaged in the fearful swamp fight at Narragansett, December 19, 1675, (within the limits of the present town of South Kingston, R.I.).

In storming this fort he led his men bravely forward and was one of the six captains who fell in this memorable fight. A complete victory was here gained over the savage foe, but with great loss of life on both sides. Capt. Gallup was a brave and valuable officer and was loved and respected by his men.


6 Ibid, p. 22. Surety: 3. Children: [of John Gallup and Hannah Lake]

6. Hannah, b. at Boston, Sept. 14, 1644. m. Steven Gifford of Norwich, Ct., June 18, 1672.

7. John, b.

8. Esther, b. N. London, Mch. 24, 1653. m. Henry Hodges of Taunton, Dec. 17, 1674.

9. Benadam, b. Stonington, 1655.

10. William, b. 1658.

11. Samuel,

12. Christobel, m. Peter Crary of Groton, Dec. 31, 1677.

13. Elizabeth, m. Henry Stevens of Stonington.

14. Mary, m. John Cole, schoolmaster of Boston.

15. Margaret, m. Joseph Culver of Groton.