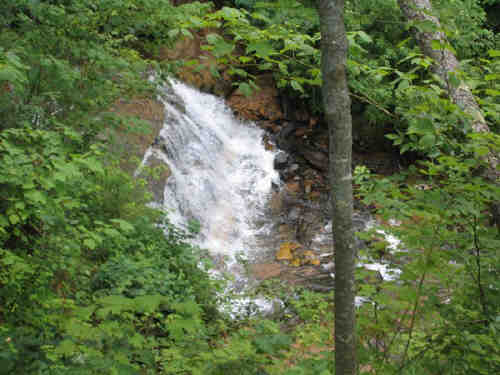 GOUPILLE, Rudolph A.
(1929-1987)
GOUPILLE, Rudolph A. 1
Born: 5 Apr 1929, Grand Marais, Alger County, Michigan
Died: 12 Oct 1987, Ishpeming, Marquette County, Michigan at age 58 2


General Notes:
Rudolph inherited a great stretch of property in Grand Marais, Michigan, through which the AuSable River passed, including the AuSable Falls (known in the family as "Rudy's Falls"). The property was originally owned by Rudolph's mother's family, and was the largest dairy farm in the Upper Penninsula at that time. Rudy eventually sold the property to the state of Michigan, and this area is now known as the AuSable Falls State Park. Walking trails and a wooden stairway now lead visitors to "Rudy's Falls." Included is a photograph of the falls.

Sources
---
1 1930 US Census, Burt Township, Alger County, Michigan. Surety: 4. Lists Arthur (age 37, b. MI), wife Gertrude L. (age 35, b. MI), and son Rudolph A. (age 11 mos, b. MI), living in Grand Marais, Michigan. Arthur is listed as a "truck driver for a general store," and indicates that both his parents were born in French Canada. Gertrude indicates that her father was born in Switzerland and her mother in Germany. The couple indicates that they married when Arthur was age 33 and Gertrude age 31. They also indicate that they have been married for four years. Living next door is Arthur's sister, Matilda Thomas, and her family including their mother, Marguerite Goupille.
2 Michigan Deaths, 1971-1996 (State of Michigan). Surety: 4. Rudolph A. Goupille, b. 5 April 1929, d. 12 October 1987, residence: Negaunee, Marquette, Michigan; place of death: Ishpeming, Marquette, Michigan.